Give Your Workspace New Life
Having a comfortable and inviting place to work and think can impact your mood and your productivity. This means the layout and flow of your workspace have a strong influence on the success of your business.
When you think of the other businesses in your industry, does the design of their office ever cross your mind? If not, it should! The most successful businesses combine all of the comforts of home with a professional image, giving employees functional and relaxing places to do their best work. So, how can LetourneauKeller help you create the same for your office? By giving you some great options in office furniture and tips on how you can give your workspace new life.
Make Your Mission's Statement Visible
Your company has a set of values that drives everyone in the company. Most organizations tend to tuck their missions statement way in the company policy or employee handbook. But if you want to bring new life into your workplace, consider enlarging this statement and putting it on a wall in your lobby or in a common hallway!
Not only does an enlarged image of your company's mission encourage and embolden your teams, but it also serves as a reminder to customers what your business is all about and what you value as a company.
Integrate Your Brand's Colors Wherever You Can
When it comes to designing the interior of your workspace, choosing a color scheme doesn't have to be difficult. Sticking with the colors of your brand is a great way to incorporate the building into the brand and provides a consistent look across your entire company.
But don't just stop at the paint on the walls. You should also look to incorporate your brand colors in a variety of office furniture pieces. This can be everything from guest office chairs to reception area loungers. You can even order specialty office chairs for each employee with a brand-colored seat cushion, giving your space the ultimate cohesiveness and making everyone on the team feel like a part of the brand.
Hang Large Pieces of Artwork
Nothing gives your workspace new life quite like bright and bold art pieces. If you have some blank walls or want to replace old ones, then now's a good time to hang some larger pieces of artwork. Abstract art is a great addition to executive suites, conference rooms, and even lobby waiting areas.
If you're having a difficult time finding pieces that match your brand or company's atmosphere, then turn to our interior design professionals for guidance and selections. We work with numerous artwork vendors to bring offices just like yours the right artwork pieces to hang on the walls.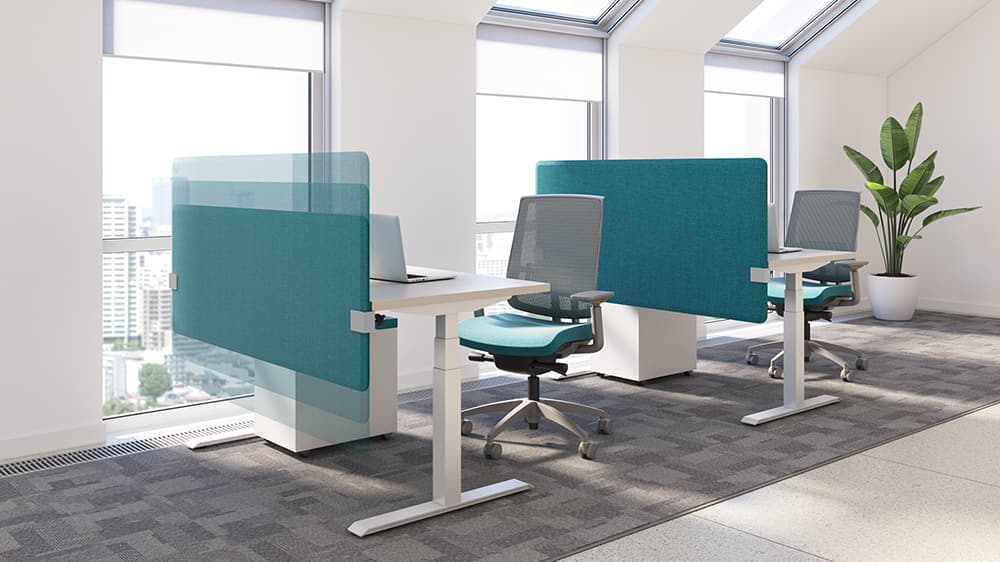 Install New Dividers
Today's modern workspaces are open and encourage synergy amongst team members. So, if you want to give your office new life, then create an entirely new workspace by installing new dividers. These stylish panels can fit in nicely with your new open office space, but give each team member a sense of privacy when needed.
Furthermore, by knocking down old walls and putting up stylish new dividers, you create an atmosphere of collaboration and communication — All the things a business needs to thrive and create solutions to complex issues.
Color Code Office Supplies
Want to add a simple, yet effective branding visual to your workspace? Then color code your office supplies. This can include everything from desk organizers, pen holders, and paper clips. Branding these small, yet useful supplies further elevates your commitment to your company and brand. Additionally, adding color to any office can set the tone and mood for how you want people to feel when they walk through the doors.
If you want to understand the fundamentals of color theory and how they play into giving your workspace new life, check out this article by Vista.
Let LetourneauKeller Give Your Workspace New Life
Want to work with local professionals who know your industry and what your office needs to function? Then turn to the interior designers and project managers at LetourneauKeller! We proudly serve those in healthcare, government agencies, educational institutions, and corporate offices. Give us a call today at (832) 405-4651.